shaniasupersite.com
Miscellaneous 16

Click on thumbnail for full size
If some images don't appear, click reload/refresh page
Shania in Miami, FL (February 2013)
The water is so tempting and I need to stay in shape for my return to the colosseum stage in March, but think I'll jog instead.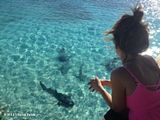 Shania taking a Winter break in Canada (February 2013)
Reviewing production notes during a winter break in Canada for the show starting again on March 19 at the Colosseum.


Shania fan Darius Zelazko meets Carrie-Ann before Shania's "Still The One" Las Vegas show at The Colosseum at Caesars Palace (3/19/13)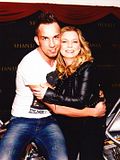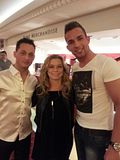 Darius meets Shania & Frederic at Wolfgang Puck's Spago restaurant in Las Vegas (3/20/13)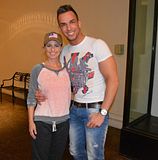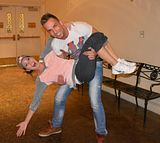 Shania attending Cirque du Soleil's "One Night For One Drop" show at the "O" theater at Bellagio hotel in Las Vegas (3/22/13)
High Quality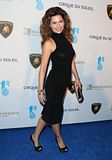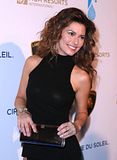 -----------------------------------------------------

Shania in the Bahamas (5/7/13)
Last day in the Bahamas! Very excited to get back on stage in a week.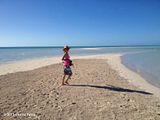 Shania's first performance award (1976)
Someone gave this to me at my Las Vegas show last week. A news clipping of my first performance award at age 11. (5/29/13)


Shania stuck at the airport (6/12/13)
I had flight delays this morning so missed my connection. 6 airport hours to kill.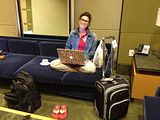 Large-->
Filling up on takeaway pizza while I continue to wait for my flight. I'm enjoying your comments between bites.

Large-->
Why so grim? I'm thrilled the flying, rerouting, layovers and 30 hours of flight delays are finally over, but my luggage didn't make it.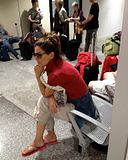 Shania writing songs under a tree (6/19/13)
Twitter: I will spend a lot of the summer thinking about my next album. Off stage & back to songwriting.
Facebook: I will spend a lot of the summer working out what to put on my next album. A break from the stage gets me back to writing the songs.

Large-->

Shania attending "Aida" opera in Verona, Italy (6/24/13)
About to see "Aida" at Verona's Roman Amphitheater


Shania in Rome, Italy (6/27/13)
When in Rome, I go to the Colosseum & when in Vegas, I go to the Colosseum!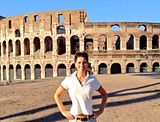 Shania playing tennis in Austria (6/29/13)
The view is distracting but I'm doing my best to keep my eye on the ball during my tennis workout. Check out the Austrian Alps behind me. Amazing!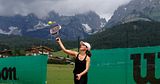 Shania & Frederic meet Arnold Schwarzenegger in Austria (7/1/13)
We met Governor Arnold Schwarzenegger at the Stanglwirt hotel in Kitzbuhel Austria and enjoyed discussing his impressive R20
environmental organization and his recent office opening in Algeria. We also exchanged info regarding our respective charity projects
supporting student safety and success in both school and life of "After-School All-Stars" & "Shania Kids Can". I was inspired by
Arnold's passion and sincerity toward helping others and making a difference. - Shania


Shania attending The Rolling Stones concert at Hyde Park in London, England (7/14/13)
Partying in Hyde Park to The Rolling Stones, live. Way Cool!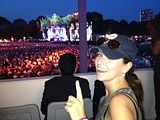 2013 Montreux Jazz Festival in Montreux, Switzerland (July 4-21, 2013)
Bonnie Raitt was my highlight at the Montreux Jazz Festival this year. Her voice was impeccable.

A hug with Quincy (Quincy Jones) back stage in Montreux just before his 80th birthday special in tribute to Claude Nobs. It doesn't get any better!


Shania & NBA basketball player Thabo Sefolosha in Switzerland (7/24/13)
I'm on my tiptoes to stay in the frame beside Thabo Sefolosha, the only Swiss basketball player to ever
make it to the NBA and reach the finals in 2012 with the Oklahoma City Thunder. Sweet guy too!


Shania thanks her 2 million Facebook fans (7/27/13)
Cheers to all my Facebook followers!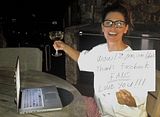 Shania shares the love on Facebook - heart from Frederic (7/31/13)
My husband made this for me from this morning. I'm just sharing the love...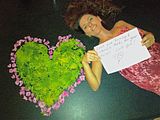 Shania attending the Paleo music festival in Nyon, Switzerland (8/2/13)
I'm taking in as many concerts this summer as possible. Love being part of the audience but miss the stage too. See you in Vegas in October.
For those asking... it was at the Paleo festival in Switzerland in the rain. Good thing I wore a hat. Holy mud!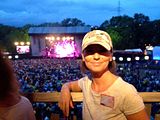 Shania & Joe Cocker at his concert in Montreux, Switzerland (8/6/13)
Joe Cocker is such a sweet man and his show in Montreux was one hit after the other. Wonderful!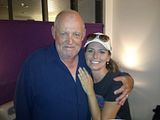 Shania hiking in the mountain village of Zermatt in Valais, Switzerland (August 2013)
Hiking in Zermatt last weekend. Stunning view, hard work, worth it!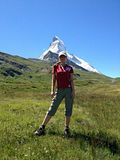 Shania mountain hiking on The Matterhorn in Switzerland (8/15/13)
Mountain hiking to stay fit between #ShaniaInVegas shows. Matterhorn is a great distraction from my burning muscles!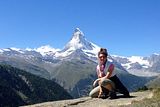 Shania doing U.S. and Canadian radio interviews via telephone in Switzerland (8/16/13)
Having awesome chats about my upcoming #ShaniaInVegas shows with radio and press today. A great Friday!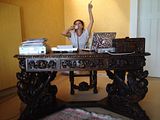 Shania celebrating her birthday at her home in the Bahamas (8/28/13)
Thanks for the birthday wishes. Love to you from my special day to yours!


Shania sitting at a bus stop with a skeleton in the Bahamas (8/31/13)
"I think I'll walk" #Skeleton #laborday

Large--->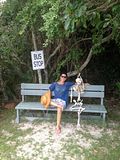 Shania, Frederic & Eja attending Michael Bublé concert in the Bahamas (8/31/13)
@MichaelBuble: 9/1 Big thanks to @shaniatwain and her beautiful family for coming to hang with me before my show last night @atlantisresort.
@ShaniaTwain: 9/2 Catching up back stage before his concert at Atlantis, Bahamas, Paradise Island w/ Michael Bublé, who was bubbling with joy to be a new dad!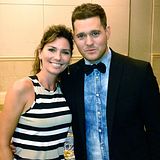 Shania sitting on a deserted beach in the Bahamas (9/6/13)
Camping out under a shading pine for the day on a deserted beach during my birthday weekend!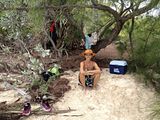 Large--->

Shania taking a morning walk on the beach in the Bahamas (9/10/13)
Morning walk to my favorite tunes, what are some of your favorites songs at the moment?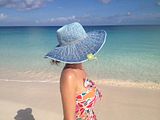 Shania getting on an airplane in the Bahamas (9/14/13)
Off to Paradise on earth, Musha Cay, to spend the weekend with David Copperfield and his beautiful family.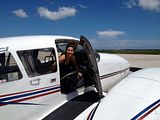 Shania on the island of Musha Cay in the Bahamas (9/16/13)
Happy Birthday to David Copperfield. Just got back from a weekend visit to David's stunning, The Islands of
Copperfield Bay (Musha Cay). Coolest beach drive-in theatre! See you soon again in Vegas, David!


Shania taking a dip in the ocean in the Bahamas (9/21/13)
Sharing with you what my weekend looks like and wishing you a beautiful weekend too!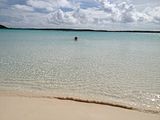 Shoe designer Chloe Gosselin welcoming Shania to Instagram (9/25/13)
Please give a big welcome to my friend @shaniatwain on Instagram! Follow her & go see her wonderful show in Vegas #shaniatwain


Shania going for a bicycle ride in the Bahamas (9/26/13)
Shaping up for the shows coming up in Vegas next month and making up for the macaroni and cheese dinner last night... #ShaniaInVegas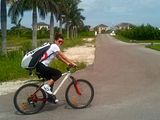 Shania singing on the beach in the Bahamas (9/29/13)
Singing with the sand under my feet. Nothing like it! #photobomb #dogsofinstagram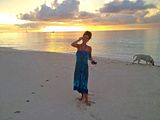 Large--->

Shania playing tennis (10/2/13)
I'm working on my volley to be ready for the Shania Kids Can charity tennis auction ! Only a few more hours to bid!


Shania vacationing in Eleuthera, Bahamas (10/7/13)
Taking in the view at The Cove Eleuthera before I'm back on stage at The Colosseum at Caesars Palace for #ShaniaInVegas in one week!!!


Shania and her dog Jett at her home in the Bahamas (10/12/13)
Saying "goodbye" to my sweet dog Jett, before heading off to Las Vegas yesterday. We adopted him from the humane society last year.
He knows I'm leaving when the luggage comes out. His sad face breaks my heart. #ShaniaInVegas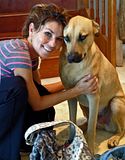 Shania signs Carrot Top's guitar for Susan G. Komen of Southern Nevada breast cancer charity (10/20/13)
Awesome!!! @ShaniaTwain signing the new #2013PinkGuitar that's not pink. Thanks for the axe @LegatorGuitars


Shania opens first Shania Kids Can Clubhouse at Tom Williams Elementary School in Las Vegas, NV (10/21/13)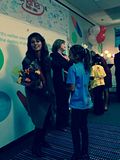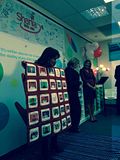 "The Ellen DeGeneres Show" (Taped 10/22/13 Airdate: 10/23/13)
Leaving Las Vegas for Los Angeles, CA 10/22/13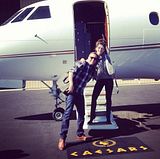 Shania Kids Can tennis match fundraiser in Las Vegas, NV 11/1/13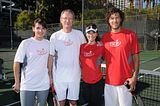 Shania goes out for Halloween in Las Vegas, NV (11/1/13)
Dressed as "something" masked, pink and shiny, I headed out to the Trilogy of Terror Haunted Houses to enjoy the Halloween
spirit in Las Vegas last night. "The Gates of Hell" was especially intense and I didn't know whether to pee my pants, scream
or laugh/cry but think I may have done all at the same time, at one point. Wicked!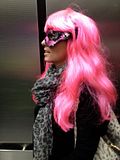 Me [in pink] wincing, backed up against the execution wall in the "Gates of Hell" haunted house on Halloween night!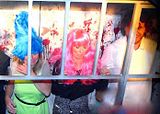 "ET Canada" (Airdate: 11/4/13)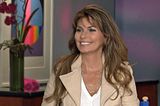 "In The Spotlight with Robin Roberts" (Taped: 10/18/13 Airdate: 11/5/13)


Shania attending Boston Celtics vs. Miami Heat NBA basketball game (11/9/13)
I really enjoyed Miami Heat vs Boston Celtics NBA game tonight. It's especially inspiring to witness
Lebron playing live after watching the documentary "More Than A Game". Anyone see the game?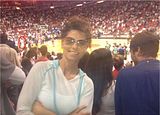 Shania signing pictures for Shania Kids Can Facebook contest winners (11/11/13)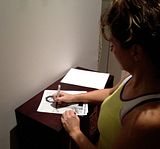 Shania riding a jetski in the Bahamas (11/20/13)
How is your November going? Can't complain about mine so far. Also looking forward to being back in #Vegas in a week!


Shania playing the piano at her home in the Bahamas (11/28/13)
I hope everyone has a wonderful #Thanksgiving. I am very thankful for all of my beautiful fans.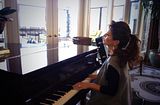 Vidcaps from "Shania - The Love Of Horses" (Video posted 11/29/13)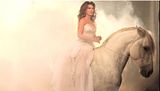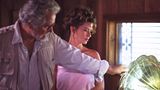 Vidcap from "Shania - The Love Of Horses: Can Shania Ride?" (Video posted 12/6/13)


Shania & Brazilian singer Paula Fernandes recording "You're Still The One" in Las Vegas, NV (12/2/13)
Paula Fernandes and I have been working on something special. Can't wait to share it with #Brazil!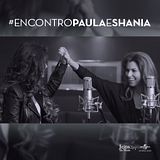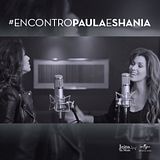 Official cover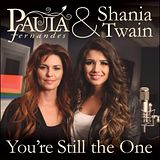 Alternate cover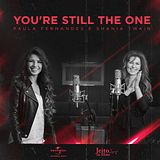 Shania serving as grand marshal of the 2013 Las Vegas Great Santa Run (12/7/13)
Trying on my Santa hat for the The Las Vegas Great Santa Run tomorrow! Excited to serve as the Grand Marshall!
You can support the Opportunity Village charity & join #TeamShania online or support my husband, sister, or band members
that are running for #TeamShania. Great fun for a great cause! (12/6/13)

Had a great time today, serving as the Grand Marshal to the Las Vegas Great Santa Run where more than 11,000 Santas
ran around Freemont Street. Time to head back to the The Colosseum at Caesars Palace for my show tonight!!! (12/7/13)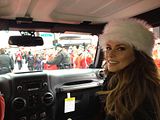 Shania opening Day 8 of the 2013 National Finals Rodeo at the Thomas & Mack Center in Las Vegas, NV (12/12/13)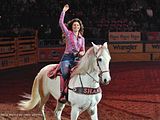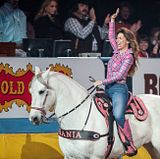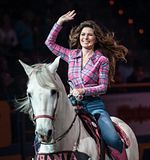 Rehearsing for my participation in the National Finals Rodeo on Thursday night in Las Vegas! (12/10/13)


Shania's cat Skipper at her home in the Bahamas (12/19/13)
I have a cute new Christmas tree ornament this year. His name is Skipper!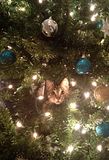 Shania decorating Christmas tree at her home in Switzerland (12/23/13)
I'm putting the finishing touches on the tree in Switzerland. Fondue, hot chocolate and snowy mountains. I cooked all day. It's Christmastime! Cheers and peace to you!!!


Shania on Christmas morning at her home in Switzerland (12/25/13)
Pink, bear print pajamas, a roaring fire and left over Christmas Eve pie. What more could a girl ask for on Christmas morning?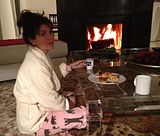 Shania skiing in Villars, Switzerland (12/30/13)
I enjoyed a beautiful ski in Villars, Switzerland today. Hope you're having a wonderful, holiday season too!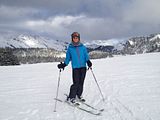 Shania celebrating New Years in Switzerland (12/31/13)
It's 2014 in Switzerland and I wish you lots of love and happiness in the new year. Let's make this the best year ever!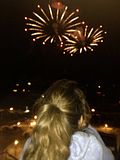 Miscellaneous - page 1 Miscellaneous - page 2
Miscellaneous - page 3 Miscellaneous - page 4
Miscellaneous - page 5 Miscellaneous - page 6
Miscellaneous - page 7 Miscellaneous - page 8
Miscellaneous - page 9 Miscellaneous - page 10
Miscellaneous - page 11 Miscellaneous - page 12
Miscellaneous - page 13 Miscellaneous - page 14
Miscellaneous - page 15.....Miscellaneous - page 17
Miscellaneous - page 18.....Miscellaneous - page 19
Miscellaneous - page 20 .....Miscellaneous - page 21
Miscellaneous - page 22.....Miscellaneous - page 23
Miscellaneous - page 24.....Miscellaneous - page 25
Miscellaneous - page 26

previous gallery return to gallery index next gallery